Kids 'n Arts Summer Camp will provide your children with an enriching visual arts and theatre experience unlike any other! Campers will enjoy hands-on art projects inspired by the Castellani Art Museum's rich collection and create their own unique theatre performances.
2023 Kids 'n Arts Summer Camp Dates
July 10 to August 11 on Mondays through Fridays, 9:00 a.m. to 4:00 p.m.
WEEK 1: July 10-14 Marvelous Things -- All stuff has meaning! Explore art and theatre and discover what makes 'things' remarkable.
WEEK 2: July 17-21 Inside Out --

Find the balance between your mind and body and focus on being healthy both inside and out!

WEEK 3: July 24-28 Around We Go! --

Get things moving around and around! Take a spin on a week based around movement.

WEEK 4: July 31- August 4 Creating Character --

Share your voice and tell your story. Telling stories through unique perspectives in art and theatre.

WEEK 5: August 7-11 Earth and Nature --

Take a deep look into Earth and Nature and celebrate the beauty of the great outdoors.
---
About Kids 'n Arts Summer Camp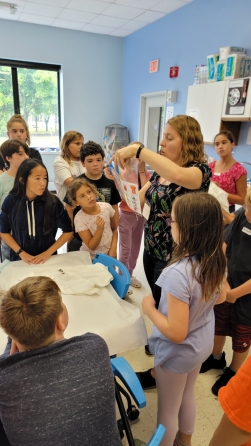 Ages: Camp is for children ages 5-12. Children must complete kindergarten to be eligible.

Cost:
$50 nonrefundable registration fee per child, per week is required to reserve your place
Tuition is $250 per child, per week.
All payments must be done online.
Museum members, NU Theatre season pass holders, NU faculty, and staff are

eligible

for a 10% discount.
Extended child care is available from 8:15–9 a.m. and 4–4:45 p.m. The weekly cost is $60 per child for either morning or afternoon care and $80 per child for both morning and afternoon care.
Tuition refunds will be given for cancellations up to two weeks before camp begins. Tuition payment is encouraged in full at the time of registration. Final payments must be made one week prior to the start of camp.
Kids 'n Art Camp Scholarship
The Kids 'n Art Summer Camp Scholarship is a transformative opportunity designed to provide economically disadvantaged children with the chance to attend a remarkable theater and arts summer camp. We believe in the power of creativity and self-expression, recognizing the profound impact it can have on a child's development, confidence, and future success.

If you know a child who possesses a burning passion for the arts and would greatly benefit from this scholarship, we encourage you to nominate them or apply on their behalf. Applications are now closed for this scholarship.
Junior Counselor Application
Junior Counselors provide support to the senior counselors, art teachers, and the theatre coordinator. Please note that Junior Counselors must be age 13 by July 1, 2023 in order to qualify for this position. The maximum age is 18.
Applications are now closed
Please inquire by emailing:
Alex Filips, Kids n' Art Camp Director at alexandrafilips@niagara.edu
Evan Wright, Community, and Academic Engagement Manager, 716.286.8201 or by email, at evanwright@niagara.edu.