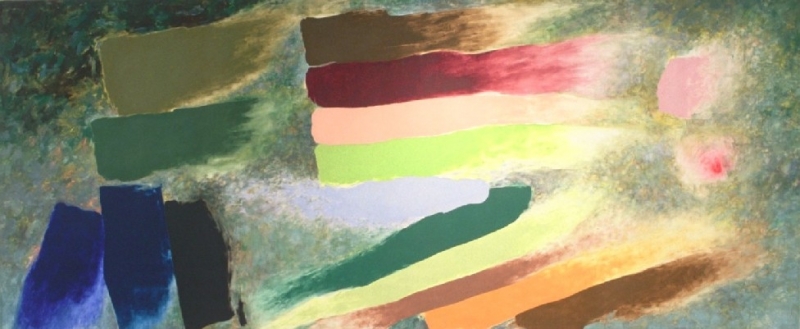 Friedel Dzubas (American, B. Germany, 1915-1994), Grand Mesa, 1977, acrylic on canvas, 116-1/2 x 277-1/4 inches. Castellani Art Museum of Niagara University Collection, Gift of Dr. and Mrs. Armand J. Castellani, 1989.
Abstraction Gallery
Jan 1, 2021 - Dec 15, 2023
Abstract Expressionism, the first truly American art movement, emerged in the early 1940s in New York's Greenwich Village. Defying standards, a group of artists moved away from depictions of people and nature towards expressive, less recognizable forms.

Abstract Expressionism is a major movement in Modern Art, correlating also to abstraction and non-representational art in general. It emphasized the depiction of emotions rather than objects. Abstractionists favored large canvases, dramatic colors, and loose brushwork. They sought to portray paint texture and the movement of the artist's hand. The act of creating was considered as important as the finished product itself. Emphasizing its independence from European trends, Abstract Expressionism was the first American school to influence artists overseas rather than vice versa.

Correlated to the United States' prominence in global politics after World War II (1945), the epicenter of the international art world shifted from Europe to the heart of modern America: New York City. Abstract Expressionism was dominant until the development of Pop Art in the 1960s. The movement had a profound impact on later generations of artists, particularly in their use of color and materials.

Historically, this genre and abstraction were dominated by male artists, however there were a number of important female and BIPOC artists that received recognition and commercial success including Sam Gilliam, Alfred Jensen, and Joan Mitchell. Our founders Armand and Eleanor Castellani collected from the 1970s through the 1990s, acquiring major works by Abstract Expressionists. They were forward-thinking collectors who acquired work by artists that were not considered as important as their male counterparts at that time, including Grace Hartigan and Helen Frankenthaler.

With a focus on historically excluded voices and artists, the CAM continues to build the collection. This gallery features a rotating selection of abstract works that challenge our perception of art, provide diverse artistic perspectives, and offer the opportunity for self-reflection and contemplation.
This exhibition is made possible, in part, by the New York State Council on the Arts with the support of Governor Andrew M. Cuomo and the New York State Legislature.