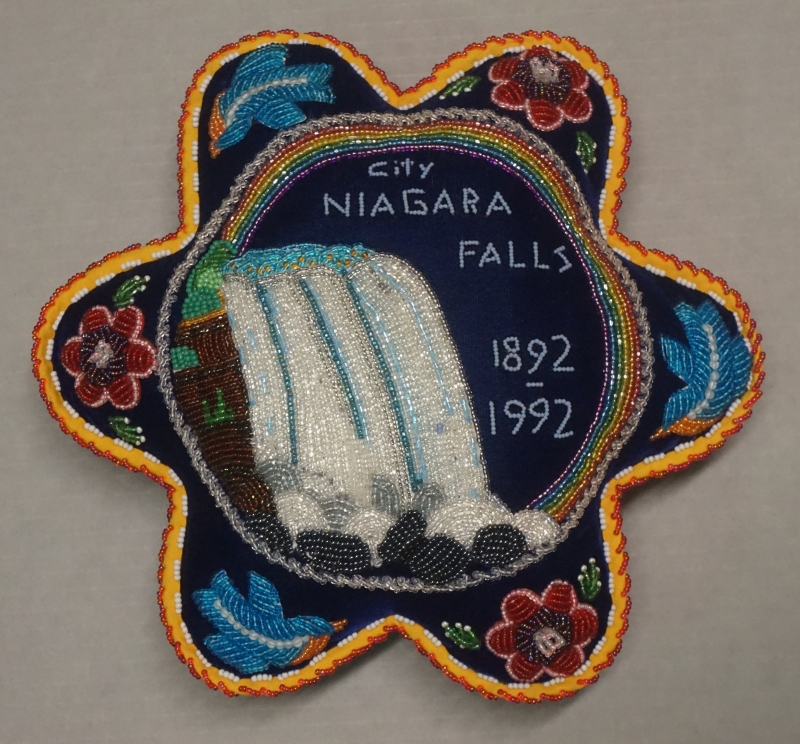 Detail image of a Niagara Falls Pincushion made by Marlene Printup, featured in the exhibition.
Across Borders: Beadwork in Iroquois Life
Jul 2, 2000 - Nov 19, 2000
This ground-breaking exhibition traces the story of Iroquois beadwork from pre-contact times through the present. Displays explore the meaning of distinctive motifs and show how beadwork is made. Visitors can learn about the innovative style of beadwork developed by the Iroquois during the mid-nineteenth century. Built upon traditional Iroquois designs and popular non-Native Victorian fashions, beadworkers created a novel array of elaborated beaded "souvenirs" aimed specifically at tourist markets throughout the Northeast. Across Borders takes visitors on a journey of discovery – an exploration of how the art of placing thousands of tiny glass beads on fabric is intimately linked to the identity and survival of Iroquois people.
Across Borders: Beadwork in Iroquois Life highlighted not only the history of this tradition, but also the families and individuals behind its contemporary practice, through fieldwork interviews with beadworkers on Tuscarora Nation recorded by Kate Koperski, and fieldwork interviews with beadworkers on Kahnawake, recorded by Kanatakta.
Across Borders was created in collaboration between a network of Native and non-native scholars, artists, and museum professionals across the United States, Canada, and Haudenosaunee nation territories: the McCord Museum in Montreal (QC), the Castellani Art Museum of Niagara University in Niagara Falls (NY), Tuscarora Nation community beadworkers, Kanien'kehá:ka Onkwawén:na Raotitióhkwa Language and Cultural Center in Kahnawake, and the Royal Ontario Museum in Toronto (ON).
Curatorial Team:
Trudy Nicks
Jolene Rickard
Kanatakta
Kate Koperski
Moira McCaffrey
Sandra Olsen
Ruth Phillips
Across Borders: Beadwork in Iroquois Life traveling schedule:

McCord Museum, Montreal, QC (Canada): June 18, 1999 to January 9, 2000
Castellani Art Museum of Niagara University, Niagara University, NY (USA): July 2 to November 19, 2000
Canadian Museum of Civilization, Gatineau, QC (Canada): June 7 to November 4, 2001
National Museum of the American Indian (Smithsonian Institution), New York, NY (USA): December 9, 2001 to May 19, 2002
Royal Ontario Museum, Toronto (Canada): June 21 to October 13, 2002
Mashantucket Pequot Museum and Research Center, Ledyard, CT (USA)