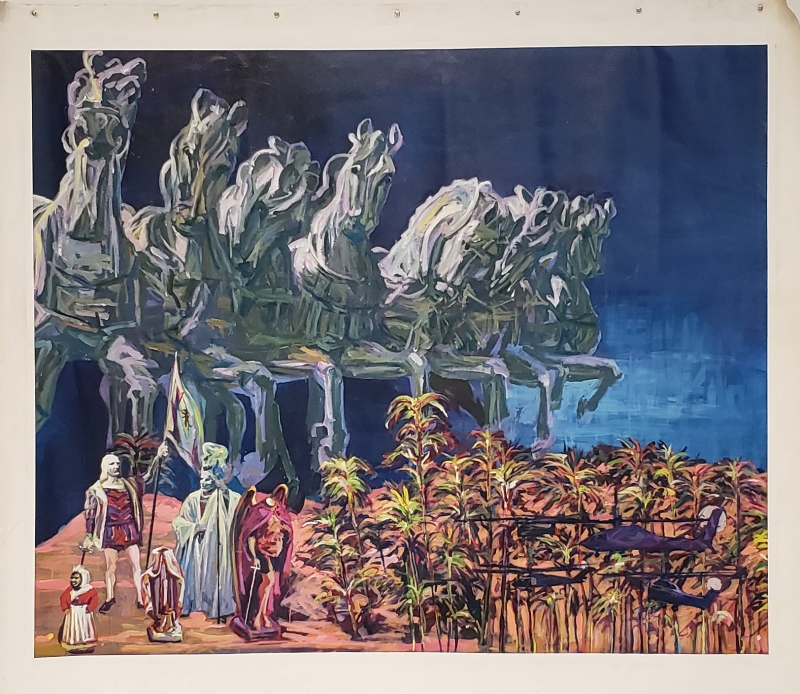 Arnold Mesches, American - 1923-2016, Anomie 1942: Poonta, Bombay, 1990, acrylic on canvas, 91 1/2 x 113 in., Collection of the Castellani Art Museum of Niagara University, Gift of the Castellani Family, 2019
Arnold Mesches: A Tribute 1923-2016
Jan 30, 2017 - Apr 16, 2017
His work is always provocative, usually political, and often pessimistic. Yet, the paintings of artist Arnold Mesches first and foremost assert themselves as paintings—vivid, gestural, and glorious. In spite of their often-somber content, they can't help but express the enduring joy of artistic creation.
Mesches' painterly exuberance is most apparent in works that have no obvious thematic message. A beautiful example is his portrait of museum founders Armand and Eleanor Castellani (permanently on view in the Castellani Art Museum's sculpture court). As with many contemporary portraits, there was no "sitting;" a photograph is the source. This is no stiffly accurate (and overly respectful) depiction. Armand's green and pink highlights pose a cheerful contrast to the thoughtful, deep blue eyes behind his specs. Eleanor's face is mobile and mischievous, as though she's expressing good-natured skepticism. The portrait is covered in slashes of expressive brushwork; as in so much of Mesches' work, its vigor belies the fact that the artist was well into his sixties when he made most of the work in this exhibition. (An earlier, pre-expressionistic work is the artist's portrait of his mother, Anna Mesches I, from 1974.)
The celebration of paint continues in more complex works, such as Anomie 1942: Poonta, Bombay. The historic reference for the painting is well-documented. As Mesches explains in a 1997 catalog, "I discovered that the English threw India's Mahatma Gandhi into a Poonta, Bombay jail in 1942 for his refusal to enter the war." The artist's choice of imagery is not literal, but the symbolic clash of uniformed colonialism and indigenous flora, fauna, and culture is clear, as is the significance that almost everything is to some extent suffused in deep red.
Although there is never one right or wrong explanation behind any Mesches painting, the artist's generous use of engaging symbolic elements and common icons of twentieth century life make them especially appealing to the many students that view his work in this and other public collections. Even better, the imagery leads students to further exploration of the history underlying it.
Whether merry-go-rounds and bishops, Renaissance masters and vintage motorcycles, or—in perhaps the most vivid work here—Delacroix and Mussolini, the flamboyant culture clashes Mesches lays before the viewer are lively progressions, never stolid tableaux. They can't be pinned down to easily interpreted dichotomies. The human carnival of love, horror, glory, ambition, good and evil is always part of the artist's rotation. So are the lesser elements of kitsch, commercialism and pop culture. It is a rich, spirited buffet that Arnold Mesches has spread before us. We should be grateful for his intelligence, passion, and talent.
— Elizabeth Licata, Editor, Buffalo Spree magazine and former Castellani Art Museum Curator
Arnold Mesches (1923-2016) was raised in Buffalo, NY. He moved to Los Angeles in 1943 to accept a scholarship at the Art Center School. Mesches began his fine art career in 1945, moving to New York City in 1984, where he lived for eighteen years before relocating to Florida. He has had over 150 solo exhibitions as well as countless group shows and is represented in major museums, public and private collections.
Mesches has held important faculty and teaching positions at institutions including the University of California, Los Angeles; Art Center College of Design, Pasadena, CA; Parsons School of Design, NY; New York University, NY; Rutgers University, New Brunswick, NJ and as Professor of Graduate Painting at the University of Florida at Gainesville. In 2009, the University of Florida awarded Mesches an Honorary Doctorate in Art degree.
The Castellani Art Museum has mounted numerous large-scale exhibitions of Mesches' work over the years. In 2013, Mesches' work, from public and private collections in Western New York, was featured in Western New York Collects: Arnold Mesches.
In 2013, Mesches was honored with a retrospective exhibition titled Arnold Mesches: A Life's Work at the Miami Dade College Museum of Art + Design, Florida. The main gallery featured more than 85 works from 1945 to 2012. The exhibition marked Mesches' 90th birthday and 136th solo show to date. A Life's Work was augmented by three satellite-campus galleries, which exhibited over 200 works.
Accompanying the exhibition was Arnold Mesches: A Life's Work, an elaborately designed 280-page catalogue, with essays by Lowery Sims, Peter Selz and Robert Storr is available at the Castellani Art Museum.