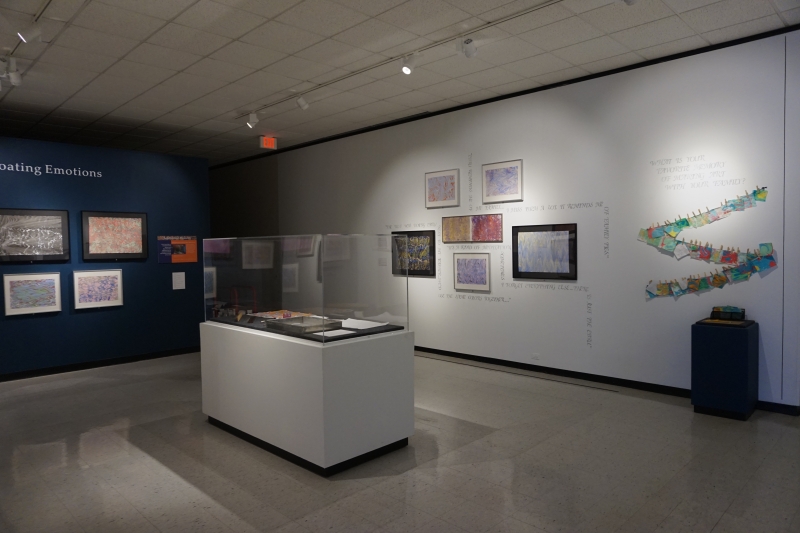 Ebru: Floating Emotions installation photo, 2017
Ebru: Floating Emotions
Apr 7, 2017 - Jul 9, 2017
---
A vivid blue floats idly on water, guided by a metal pin pulling at its color – the beginning designs of a new ebru. Ebru is the traditional Turkish art of paper marbling – sprinkling or dripping paint onto water, and using different tools to create designs that are then transferred to paper. From abstract patterns to vivid flower buds, each ebru is a unique interaction between the artist and their aquatic medium. Emotion, belief, and intention are all reflected throughout each work in the colors and techniques used, as the artist balances control and improvisation while the paints float across the water's surface.
Ebru: Floating Emotions explores this tradition in view of those three aspects – emotion, belief, and intention – and how they guide an ebru artist. Featuring ebru by İpek, Ali Burak, and Musa Saraçoğlu, this exhibit is curated by the Art History with Museum Studies course AHM357A: Exhibiting Culture and the Folk Arts program of the Castellani Art Museum.
Ebru: Floating Emotions is made possible through the Folk Arts Program of the New York State Council on the Arts with the support of Governor Andrew M. Cuomo and the New York Legislature.