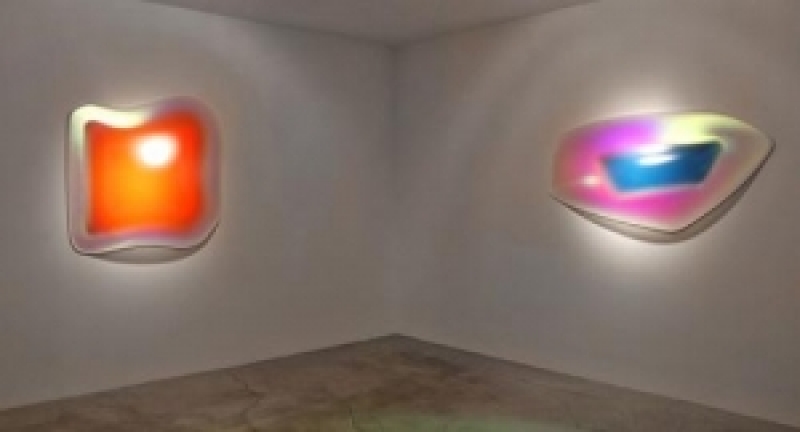 Installation Views: Dome Melt Glo-Pod (Iridescent Orange) Slab Glo-Pod (Iridescent Green Blue) 2013
Gisela Colón: Glo-Pods
Aug 28, 2016 - Feb 12, 2017
The Castellani Art Museum of Niagara University was pleased to present an exhibition of sculptures by Los Angeles based artist Gisela Colón. Glo-Pods was on display from August 28, 2016 – February 12, 2017.
Gisela Colón's Glo-Pods are made of blow-molded plastic and have a swelling, asymmetrical geometry that suggests both organic and liquid forms. The sculptures' inner core of iridescent, reflective pigment creates the experience of colored light emanating from within. Colón says, "These are autonomous, non-representational objects that provide a perceptual experience of light, color, and space. The viewer encounters a 'different' object each time he or she sees a piece, since the interior colors are constantly morphing, depending on lighting conditions and the angle at which they are viewed. These objects have the consistent qualities of their asymmetrical, biomorphic forms, and the radiant, colored light embedded within them. Although it is non-referential, this work has an organic feeling, like a cell that is alive and pulsating with energy, growing and mutating."
Colón drew her inspiration for the Glo-Pods series from the work of the Light-and-Space and Fetish/Finish art movements that had begun in southern California in the 1960s. Colón responded to their focus on perception and to the creation of minimalist forms infused with light and color. An important influence was DeWain Valentine, whose sculptures were in cast plastic meld form and color. In 2012, Colón's initial sculptural works were long, bulging forms in blow-molded plastic, whose concave interior was spray painted, often in three gradually changing colors. In what she describes as a "breakthrough", towards the end of that year Colón began her on-going series of Glo-Pods by embedding luminous color within the curving, biomorphic forms.
Colon's work is the subject of a national museum exhibition tour which commenced at The Butler Institute of American Art, Youngstown Ohio (September 2015- March 2016), travelling throughout the United States to multiple institutions as follows: International Museum of Art & Science (IMAS), McAllen, Texas (April 14- August 7, 2016); Castellani Art Museum, Niagara, New York (August 28, 2016- February 12, 2017); Museum of Arts and Sciences (MAS), Macon, Georgia (March 3 – June 11 2017); Roswell Museum and Art Center, Roswell, New Mexico (June 30 – September 24, 2017); San Angelo Museum of Fine Arts, San Angelo, Texas (December 15, 2017 – February 4, 2018); Daum Museum of Contemporary Art, Sedalia, Misssouri (September - December 2018). Colon's work is also the subject of thematic museum presentations in the US and Europe at the Grand Rapids Art Museum (September 2016); the Palmer Museum of Art, Penn State University, Pennsylvania (Fall 2017), the Kunstmuseum Wilhelm-Morgner Haus, Soest, Germany (2014); the Chabot Museum, The Netherlands (2016); and the Neuer Kunstverein, Kunstlanding, Aschaffenburg, Germany (May - July 2017).