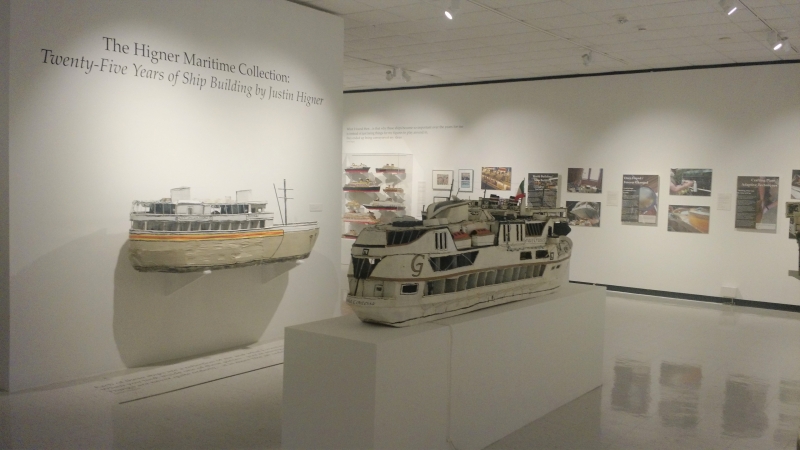 The Higner Maritime Collection installation photo, 2018
The Higner Maritime Collection: Twenty-Five Years of Ship Building by Justin Higner
Sep 9, 2018 - Mar 17, 2019
---
This exhibition celebrates Justin Higner's twenty-five-year shipbuilding career, highlighting the evolution of his model-building techniques and inventive, pseudo-historical nautical allegories. Justin Higner builds worlds. For as long as he can remember, Justin has created all sorts of lived environments for real and imagined figures, from full cities made of brick and found stones to cardboard box villages with streets and a port. In 1994, Justin's passion would take a new direction after watching documentary after documentary about the Titanic and the Edmund Fitzgerald: building worlds by building ships.
The exhibition will feature models of cargo ships, cruise ships, salvages, shipwrecks, tankers, and tenders (or dinghies), as well as ships repurposed as convention centers, hotels, and museums. Drawn from a collection centered on the artist's fictional maritime settings, these works are accompanied by narratives that chronicle not only the vessels' imagined histories, but also the interactions and relationships between the various builders and owners that populate the artist's mythological world.
Higner utilizes many of the ships' interiors to display miniature reproductions of works by regionally and nationally known artists, as well as his own artwork. These micro-exhibitions, featuring artwork accompanied by real-world historical documentation, reflect his admiration for the central mission of any given art, history, or cultural museum—to serve the public.
The Higner Maritime Collection is co-curated by Michael J. Beam, Curator of Exhibitions and Special Projects, and Edward Millar, Curator of Folk Arts.
Click here for a digital copy of the exhibit catalog.
The Higner Maritime Collection: Twenty-Five Years of Ship Building by Justin Higner is made possible in part through the New York State Council on the Arts with the support of Governor Andrew M. Cuomo and the New York State Legislature.