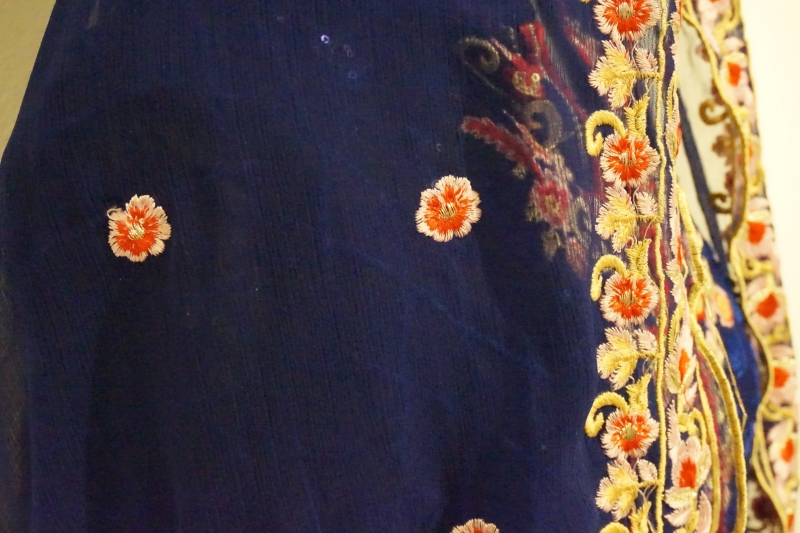 Detail of a shalwar kameez and dupatta featured in the exhibition, 2018
Wearing Meaning: Reflections on Traditional Clothing
May 6, 2018 - Jul 27, 2018
A hat, a pair of jeans, an old jacket — the clothes we choose to wear are more than their stitching: they are an important reflection and expression of who we are.
From simply being "something to wear" to featuring a design that references a video game, the decisions we make to wear something reflects our desire to share what we find meaningful and purposeful.
For traditional clothing those personal meanings are interwoven with the collective community meanings of the clothes themselves, including when they are worn and why a specific style is important.
Wearing Meaning: Reflections on Traditional Clothing explores traditional clothing through two paths: focusing on the general uses of traditional clothing in a community and on the personal relationship between traditional clothing and their wearers.
This exhibit was curated by students in the Art History and Museum Studies course AHM357A: Exhibiting Cultures. This hands-on course walked students through the different stages of developing an exhibit involving local cultural traditions – from conducting fieldwork through to exhibit design and installation.
Jessica Gorchek
Avery Richardson
Edward Yong Jun Millar
Wearing Meaning: Reflections on Traditional Clothing is made possible in part through the New York State Council on the Arts with the support of Governor Andrew M. Cuomo and the New York State Legislature.