Do you love art?
"Art is not about what you see, but what you make others see"
- Edward Degas

---
Docents have a very important and highly valued role at the Castellani Art Museum (CAM), inspiring visitors to discover and relate to art in thought-provoking ways.
What is a docent?
A docent is a well-trained volunteer who guides visitors through museum exhibitions. They are teachers, art enthusiasts, and a link between the public and the Museum. Docents prepare for and present tours to groups from schools and the community. They enrich the visitor's museum experience, engage their interest, and develop art appreciation in the audience.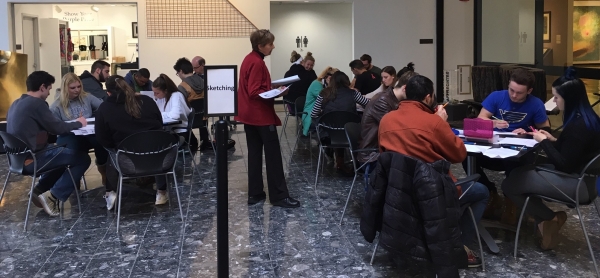 The CAM asks its docents for a commitment of time, effort, enthusiasm, and a positive attitude. In return, we offer:
The benefits of interacting with artists and museum staff

Broadening your knowledge of art and art history

A sense of achievement in working with the public

Serving the public and community through education experiences
Become a docent today!
The CAM is accepting applications on a rolling basis and we are always looking for enthusiastic interpreters to engage our visitors in meaningful ways. Experience is beneficial, but not required. Interested candidates should have a passion for the arts and the ability to work with diverse audiences. To apply please fill out our online application or email evanwright@niagara.edu.