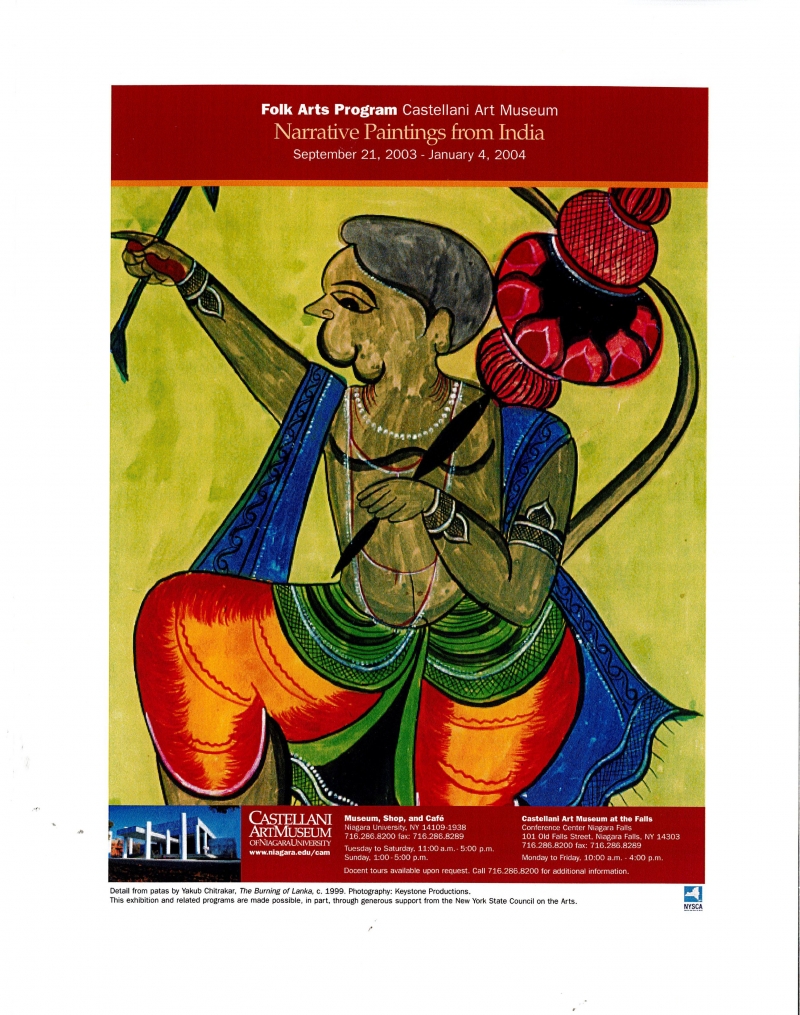 Narrative Paintings from India
Sep 21, 2003 - Jan 4, 2004
Traditional styles of Indian painting originate thousands of years ago, but continue to live and grow alongside those who practice them responding to the contemporary world and depicting recent history. This exhibit examined three regional traditions, Mithila from northern Bihar, patas from Bengal, and pars from Rajasthan.
The Mithaila paintings are traditionally done by women directly onto the walls of homes, growing to include works on paper and works done by men. Patas and pars both are varieties of story scrolls, typically accompanied by performers.
Click here for a digital copy of the catalog.
Opening Reception:
Sunday September 21, 2:00-4:00 with traditional music, dance and food.
With Guest Curator Dr. Susan Snow Wadley at 2:30 pm
"In Touch with Tradition" Workshops for families

October 5; 2:00-4:00 p.m.
Mehendi, temporary henna dye tattoos
Amita Vyas and Raju Suresh
October 19; 2:00-4:00 p.m.
Kolam, Floor paintings
Tara Venkateswaran
October 26; 2:00-4:00 p.m.
Shadow Puppets
Tara Venkateswaran
November 16, 23, and December 7
Exploring Indian Arts
A reading and discussion series for adults focusing on the traditional arts, dance, and film.