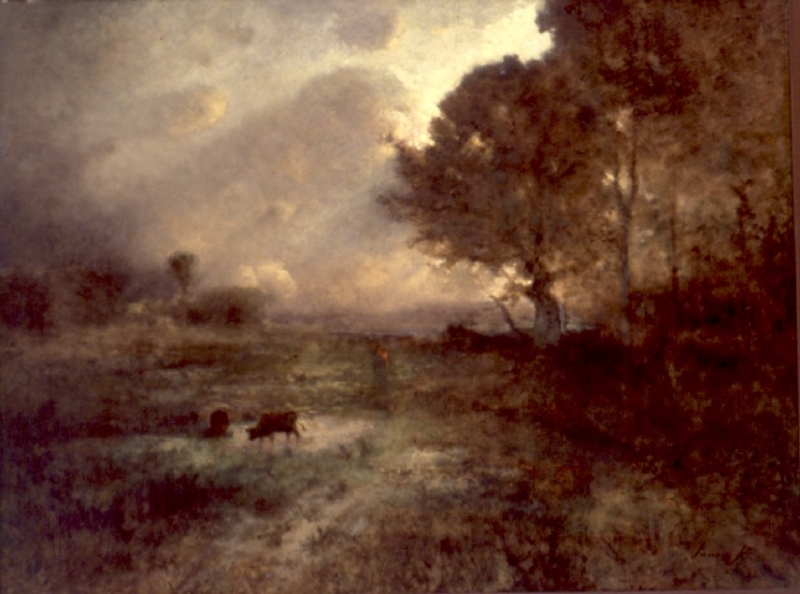 George Inness (American, 1854-1926) The Sunburst, n.d., oil on board, Castellani Art Museum of Niagara University Collection, Gift of Dr. and Mrs. Armand J. Castellani, 1983
Of Their Time: Hudson River School to Postwar Modernism
Jan 1, 2021 - Jun 27, 2022
From the Industrial Revolution (1820-1870) to the end of World War II (1945), the 19th and 20th centuries were transformative years for America. Expansion of empire, urban growth, technological innovation and the protection of natural resources were particular concerns facing America. Visual artists, from the Hudson River School painters to the Postwar Modernists, were particularly attentive to these concerns—with their own observations reflected in the magnificent works of art they created.
Of Their Time primarily features primarily works from the Castellani Art Museum's permanent collection. Art historical movements from the Hudson River School to Post World War II Modernism are presented in chronological order. Early works capture the character and natural beauty of American scenery before it was changed by industrialization, while others speak to post-industrial growth and international conflicts. Additionally, a number of works invite viewers to think about the intersection between the natural world and the advancement of urbanism.
From the 1840s through the 1870s, many American artists attended prominent art schools, here at home and abroad. Significant American schools included the Pennsylvania Academy of Fine Arts, Philadelphia; the National Academy of Design, New York; Carnegie Institute, Pittsburgh; School of the Museum of Fine Arts, Boston and the Art Institute in Chicago. American artists maintained ties to European traditions attending renowned art schools included Dusseldorf Kunstakademie, Germany; École des Beaux-Arts, Paris; the Heidelberg School, Australia; Royal Academy of Arts, London and the Paris Salon. They also experienced new radical styles of art, first-hand—widening their exposure and bringing artistic innovation home to America.
America, New York specifically, would not become the epicenter of the art world until the 1950s. Yet, during the 1800s, American expatriates living abroad and immigrant artists living in the United States were making a name for themselves and for American art. Each artist, significant in their own right, contributed to the cultural identity of America. Members of the Hudson River School, American Impressionists and their affiliates, Regionalists and early Modernists all contributed to the creation of an artistic vision which we have come to think of as distinctly American—and each artist is a reflection of their time in history.