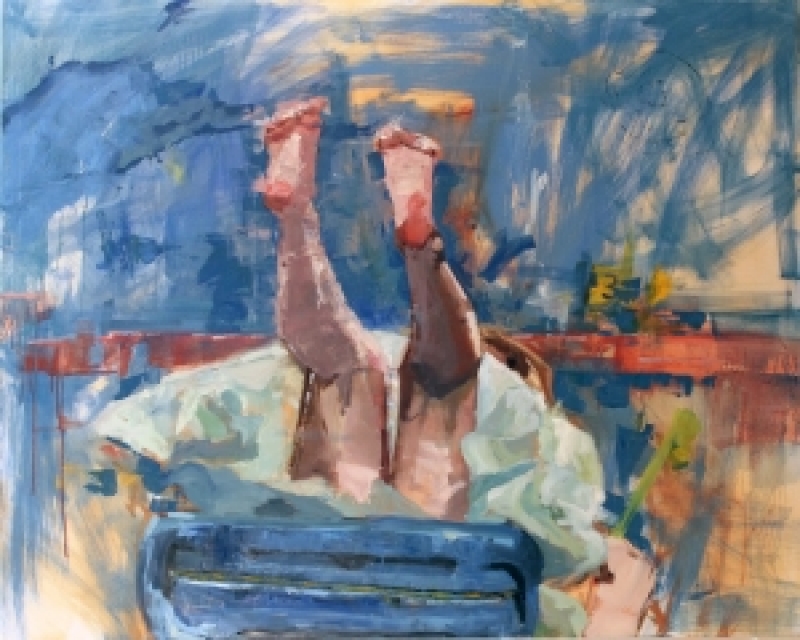 Sara M. Zak, A very short space of time through very short times of space, 2016 (detail), oil on canvas, 48 x 60 inches.
Sara M. Zak: An Overwhelming Familiarity
Sep 25, 2016 - Jan 11, 2017
Sara M. Zak's large-scale paintings are composed of complex multi-layered narratives. Built primarily around recurrent imagery of a blissful young girl, a swing, suspension apparatus, the American flag and architectural interiors; her work combines lush color and loose brushwork.
Presented in shifting perspectives, repetition of these elements communicates the tediousness of too familiar everyday life. Also entwined in the works is Zak's consideration of perpetual "Inter-generational self-replacement"—daughter becomes mother…becomes grandmother in perpetuity.
Zak's canvases function as a heightened awareness of half-remembered dreams or uninvited premonitions. Devoid of any sentimentality (a term the artist despises), below the surface of her paintings lies a purposeful sense of unease. Discomfort and agitation at the thought and fear of unforeseen life-changing catastrophes clouds Zak's psyche while painting.
With these understandings, her heightened awareness of the fragility of life becomes evident. Zak, expertly handling her medium, constructs ingenious complexities that are physically flat but are also multi-dimensional.
Sara M. Zak is a Western New York visual artist and instructor specializing in oil painting. Her work is in private collections across the country and was recently acquired by Roswell Park Cancer Institute and the Burchfield Penney Art Center in Buffalo, NY. Zak was honored to be named a 2014 finalist for the Sustainable Arts Foundation Award in San Francisco, CA. The artist founded the grassroots artists' initiative Painting for Preservation in 2011. Zak teaches at Villa Maria College, conducts regular painting workshops and is a NYFA Mark alumnus.
The TopSpin Series is sponsored by Tops Friendly Markets and additional funding from the New York State Council on the Arts with the support of Governor Andrew M. Cuomo and the New York State Legislature.