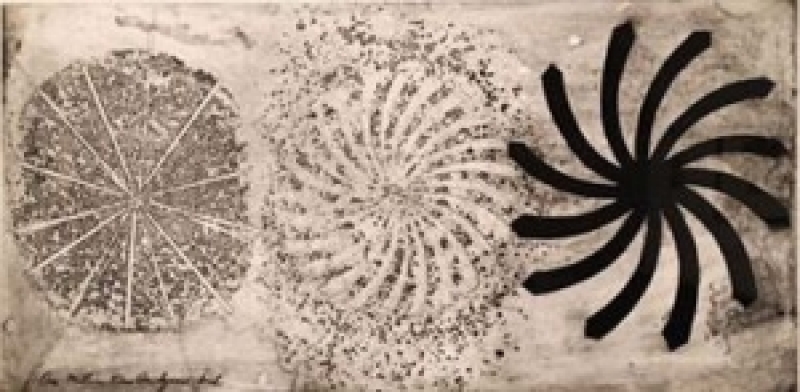 James Rosenquist, One Million Tops per Square Inch, 1977, edition 64/78, hand-colored etching with aquatint, Castellani Art Museum of Niagara University Collection.
Twenty Shades of Grey: A student's perception in black and white
Dec 15, 2016 - Mar 12, 2017
Twenty Shades of Grey was a collection of black and white artworks, in a variety of media, chosen and placed together by student curators in Niagara University's Introduction to Museum Studies class, in the fall of 2016. When you look at the exhibit you'll notice that, like art itself, it's not just black and white. It's the shades of grey in between that give you a connection to the work. That emotional response, be it happiness, sadness, anger or peace is what not only we curators want you to experience, but the artists as well.
As university students, we were drawn to pieces that represented our emotions of student life. Specific pieces may portray a definitive emotion while others can fluctuate. Emotions and feelings have no physical substance, they disappear without a word. We cannot catch or touch them. But they affect our lives even when we don't notice their presence and they leave footprints on our daily life. If you can see peace, happiness, stress or even anger through our exhibition, that's the art leaving an emotional footprint.
In our exhibition visitors faced twenty different artists and their work, presenting the viewer with a unique opportunity to experience many layers of emotion. Whatever footprint you walk away with, we hope you enjoy Twenty Shades of Grey.