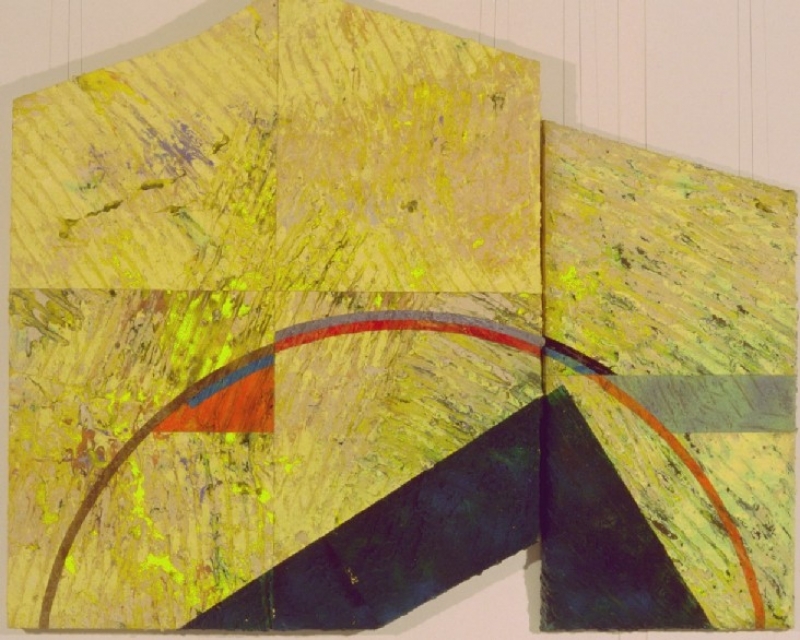 Sam Gilliam (American, b. 1933), Rites of Passage, 1981, acrylic on canvas, 391⁄2 x 493⁄4 in. Castellani Art Museum of Niagara University Collection, Gift of Dr. and Mrs. Armand J. Castellani, 1987
For the Love of Art: A Tribute to Gallerist Nina Freudenheim
Jul 2, 2019 - Jan 12, 2020
---
This exhibition surveys the forty-five year career of gallerist Nina Freudenheim, her working relationship with our founders Armand and Eleanor Castellani and her on-going relationship with the Castellani Art Museum. Featured in our central gallery were selected works by national and international artists acquired through the Nina Freudenheim Gallery.
Included are works purchased by Armand and Eleanor Castellani as well as works acquired through the pursuits of our museum directors and curators. Buffalo art collector Gerald Mead, who initially proposed this tribute exhibition, considers Freudenheim, "a personal inspiration and model arts professional whose inspired career has enriched the cultural landscape of Western New York in incalculable ways."
For the Love of Art celebrated, in part, the important and ever evolving relationship between a public museum, commercial art dealers and private collectors. In a 2012 Buffalo Spree article, Bruce Adams called the Nina Freudenheim Gallery, "notable for its longevity and reputation as Buffalo's most professional commercial venue." Adams superbly underscored Freudenheim's love and passion for the art and artists she works with, and in doing so, has inspired this exhibition's title. For more than four decades, Nina Freudenheim has been exhibiting regional, national and international artists; sharing a myriad of artistic trends, styles and aesthetics with Western New York audiences. We find ourselves better versed in the visual arts thanks to her dedication and perseverance.
To put Freudenheim's achievement, as a woman gallerist, into perspective, Sonnabend Gallery [Ileana Sonnabend (1914-2007)], in New York, was operational for 44 years (1970-2014). In 1968, Paula Cooper opened a gallery under her own name, recently celebrating her 50th year in business. Mary Boone, 42 years in operation, opened her gallery in 1977 and closed abruptly in the spring of 2019. Janelle Reiring and Helene Winer launched Metro Pictures gallery in 1980 and continue to garner success 39 years later.
Since 1975, the Freudenheim Gallery has crisscrossed the City of Buffalo with four esthetically unique incarnations. The Gallery's sites have ranged from a restored carriage house and a modified minimalist seed warehouse to an elegant, turn of the 19th century hotel, whose guest list was rumored to include F. Scott Fitzgerald, Duke Ellington and Harry Belafonte. Architecturally, the character of each of Freudenheim's gallery locations has provided her clientele with uniquely beautiful spaces in which to experience fine art.
Over the past four and a half decades, many artists in Freudenheim's "stable" have built strong reputations and command art world reverence. Moreover, as one-time Buffalo News critic Anthony Bannon wrote in a feature article on the artists in a 1981 exhibition, "Their prices are up...in measure of their international repute."
So what is next for Nina Freudenheim? "I'm going to do a lot of looking regionally, revisit historic partnerships and explore emerging art markets," she thoughtfully indicated. For the Love of Art: A Tribute to Gallerist Nina Freudenheim closed in 2020, marking the 45th Anniversary of Freudenheim's enduring career and unvanquished love of art.
Click here to access a digital copy of the exhibit catalog.