Art History with Museum Studies Program
Art History with Museum Studies Program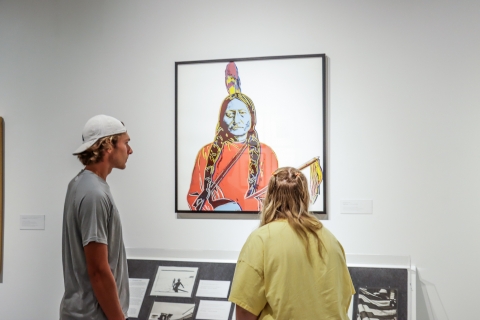 In partnership with the Castellani Art Museum, Niagara University offers a 4-year undergraduate degree in Art History with Museum Studies. This unique program provides students with an academic study of art history and museums AND career training in museum work through challenging, experience-based coursework and internships at the museum.
Art History with Museum Studies (AHM) is both an academic and professional program that provides students with a scholarly study of art, culture, and museums while focusing on the area of professional museum work such as curatorship, education, collections management, museum administration, and development. All students will have some experience in both kinds of study.
---
Exceptional Faculty
Students will work alongside our exceptional faculty. All of our courses are taught by professionals in the industry with various backgrounds and many years of experience. Students can feel assured that they will be learning first-hand from the experts while exploring current issues and best practices in the field.
---
Experiential Learning and Internships
To further develop the skills needed for a successful career in this field, students will have the opportunity to pursue museum internships at the Castellani Art Museum or other area museums. These programs are designed to be challenging educational experiences with an emphasis on professional development. Situated at the center of Niagara University, the Castellani Art Museum provides many experiential learning opportunities for our students through exhibition-based courses and internships that train students in the areas of curatorship, registrar work, education, administration, and development.
Art Study Trip
Each year there will be an opportunity to enroll in a course which includes a trip to a major city allowing for students to engage in an in-depth and immersive visual arts experience.
Scholarships
Dorothy M. Gillespie Foundation Memorial

Scholarship

Fund

The award will be made to a female student at Niagara University majoring in Art History with Museum Studies.

Dr. Gerald C. Mead, Jr. Endowed Scholarship in Art History with Museum Studies

This scholarship will be awarded to an incoming junior or senior majoring in Art History with Museum Studies (AHM), with a minimum GPA of 3.50.